Useful Information
1/ Some Counselling Approaches
2/ Useful Numbers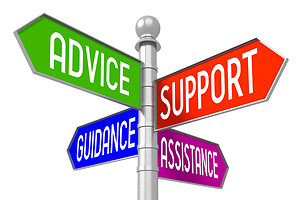 1/ Some Counselling Approaches

Cognitive- behavioural therapy (CBT)


This aims to realign peoples negative, irrational and self- defeating thoughts and beliefs through exploration and developing more useful, positive and rational ones. The work also includes exploring behaviours, reasons for these, and replacing with more useful ones.
This may seem more practical as it can include goal setting i.e. changing behaviours and reflecting back in following sessions on progress and exploring triggers and recent situations leading to behaviours. It is more directive approach. It is also used more for problem solving and when engaged with solution-focused work.


Psychodynamic therapy

This is based on the concept that our past affects our present day relationship, thoughts and feelings, and behaviours. This can be from childhood experiences. This can include dream analysis. The past is explored to identify the source of feeling, thoughts and behaviours. The belief is that by bringing these into the conscious mind, making links, and brining these to the surface that healing and changes can consciously be made going forward. This process is useful in developing a better understanding of yourself. You may therefore discuss conscious, sub conscious and unconscious feelings, thoughts and behaviours.


Humanistic therapy

This is more focused on the present and working with clients focusing on current behaviours and situations. It includes Person- centred/ client centred , Gestalt and Existential therapies. This theory differs from the Psychodynamic theory in that if doesn't focus on past experiences as being the cause of current issues but more how we process more recent life events and how the make us feel. The therapeutic work therefore is around exploring responses to events and being able to identify and accept both negative and positive aspects of our adult selves.


Integrative therapy

This involves a counsellor using a range of different approaches depending on the client and situations requirements.


Person- centred

This is based on the 3 core principles being provided by the counsellor which are-

- Empathy - Imagining yourself in the other person's shoes
- Unconditional positive regard - the counsellor being warm and having positive feeing and intentions towards you regardless of behaviour. This involves being non- judgemental
- Congruence (openness and honesty)

The therapeutic relationship is therefore key to healing and change. The counsellor's work is around the belief that the client is control of their own destiny.


Gestalt

This focuses more on what is going on in the counselling session rather than what is being said. This uses body language


Existential

This approach involves the counsellor helping the person to find self- determination, free will and take responsibility going forward in their lives.



2/ Useful Contacts
SUICIDAL

Samaritans – for everyone
Call 116 123
Email jo@samaritans.org

Campaign Against Living Miserably (CALM) – for men
Call 0800 58 58 58 – 5pm to midnight every day
Visit the webchat page

Papyrus – for people under 35
Call 0800 068 41 41 – Monday to Friday 10am to 10pm, weekends 2pm to 10pm, bank holidays 2pm to 5pm
Text 07786 209697
Email pat@papyrus-uk.org

ABUSE (child, sexual, domestic violence)

NSPCC
Children's charity dedicated to ending child abuse and child cruelty.
Phone: 0800 1111 for Childline for children (24-hour helpline)
0808 800 5000 for adults concerned about a child (24-hour helpline)
Website: www.nspcc.org.uk

Refuge
Advice on dealing with domestic violence.
Phone: 0808 2000 247 (24-hour helpline)
Website: www.refuge.org.uk
Website: www.refuge.org.uk

ADDICTION (drugs, alcohol, gambling)

Alcoholics Anonymous
Phone: 0845 769 7555 (24-hour helpline)
Website: www.alcoholics-anonymous.org.uk

Gamblers Anonymous
Website: www.gamblersanonymous.org.uk

Narcotics Anonymous
Phone: 0300 999 1212 (daily 10am to midnight)
Website: www.ukna.org

ALZHEIMER'S

Alzheimer's Society
Provides information on dementia, including factsheets and helplines.
Phone: 0300 222 1122 (Mon to Fri, 9am to 5pm. Weekends, 10am to 4pm)
Website: www.alzheimers.org.uk

BEREAVEMENT

Cruse Bereavement Care
Phone: 0844 477 9400 (Mon to Fri, 9am to 5pm)
Website: www.crusebereavementcare.org.uk

CRIME VICTIMS

Rape Crisis
To find your local services phone: 0808 802 9999 (daily, 12 to 2.30pm, 7 to 9.30pm)
Website: www.rapecrisis.org.uk

Victim Support
Phone: 0808 168 9111 (24-hour helpline)
Website: www.victimsupport.org

EATING DISORDERS

Beat
Phone: 0808 801 0677 (adults) or 0808 801 0711 (for under-18s)
Website: www.b-eat.co.uk

LEARNING DIFFICULTIES

Mencap
Charity working with people with a learning disability, their families and carers.
Phone: 0808 808 1111 (Mon to Fri, 9am to 5pm)
Website: www.mencap.org.uk

MENTAL HEALTH

SANEline on 0300 304 7000 (4.30pm–10.30pm every day)

PARENTING

Family Lives
Advice on all aspects of parenting including dealing with bullying.
Phone: 0808 800 2222 (Mon to Fri, 9am to 9pm. Sat to Sun, 10am to 3pm)
Website: www.familylives.org.uk

RELATIONSHIPS

Relate
The UK's largest provider of relationship support.
Website: www.relate.org.uk


SUPPORTLINE DIRECTORY https://www.supportline.org.uk/problems/a-z.php
I have added the above link as it has a brief but very useful list of problems areas that you can get brief information, some practical advice and useful contacts under by topic. The topics include:

A-Z list
Abortion
Alcohol
Anger management
Anorexia
Anti-social behaviour
Anxiety
Armed Services and Ex Services
Assertiveness
Autism / Aspergers
Benefits
Bereavement
Bereavement (Pets)
Bulimia
Bullying (Cyber Bullying)
Bullying (School)
Bullying (Work)
Cancer
Carers
Child Abuse
Child Abuse - Survivors
Complementary Medicine
Consumer
Counselling
Debt/Finance
Depression
Disability
Domestic Violence
Drugs
Education
Ethnic Minority Groups
Exam Stress
Forced Marriages
Gambling
Gender Identity
Hate Crime
Health
Homelessness
Internet Safety
Learning Disability
Legal Advice
Live Your Dreams
Loneliness
Mental Health
Offenders & Family Support
Older People
Parents (Talking to)
Power to Change
Pregnancy
Rape & Sexual Assault
Refugees / Asylum-Seekers
Relationships / Family
Self Esteem
Self Help
Self Injury / Self Harm
Sexuality
Stalking
Stress
Suicide
Support (Children & Young People)
Terminal Illness
Trauma
Victim Support
Volunteering